CAFR
ONLINE

is a web application that allows local governments to prepare their annual financial report (or CAFRs).

Users create the entire report with camera-ready financial statements and a word processor that links to a financial database. A change made will update in real-time for all users to see and multiple users can work simultaneously. The report can be exported at any time as a .pdf or .docx file.

Contact Us For More Info

arrow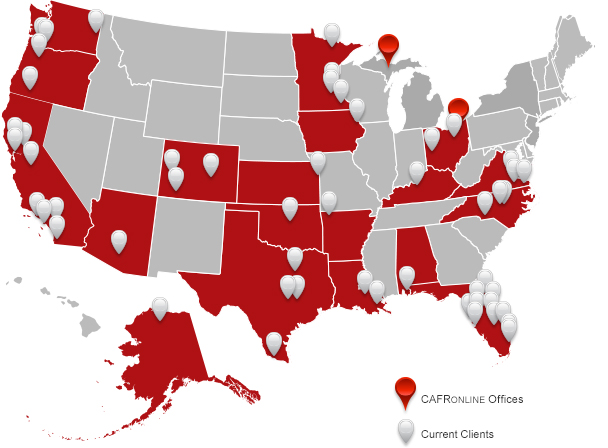 We used CAFR

ONLINE

for our 2018 CAFR. It was easy to use compared to our prior software, easy to make changes and the printed version was amazing. We should have switched years ago. I have recommended your software to a couple of municipalities in Northern Colorado, we were all very impressed with how CAFR

ONLINE

worked in producing our CAFR

—Accounting Manager

Loveland, CO
In the past our auditors prepared the report and we got to see it when they are done. This is the first year that we are preparing our entire report and providing them a copy to review. I think with this being the first year, we will be even further ahead next year. We love the program!

—Accountant/Asset Manager

Foley, AL
This was our first year using CAFR

ONLINE

and we were extremely happy. Overall, it shaved about three weeks off of staff time in producing the CAFR. The CAFR

ONLINE

support team is both helpful and knowledgeable in all aspects of producing the CAFR.

—Assistant Finance Director

Indian River County, FL
We are ahead of last year. We issued our report last year on 3/28 and presented it to council in May… We also feel much more comfortable with the report this year because last year was rushed and we did not feel like we had adequate time to review.

—Accountant/Asset Manager

Foley, AL
Thank you to the CAFR

ONLINE

folks that assisted in the 2014 CAFR. You guys do an excellent job and, in fact, go above and beyond in meeting client needs and their expectations. We are very pleased to be using CAFROnline and will continue to work with you in the coming year. Again, thank you for all of your help and keep up the good work.

—Assistant to the Director of Administration and Finance

North Slope Borough, AK
"It was a pleasure working with the CAFR

ONLINE

staff in creating our FY2013 CAFR. There were several times where we needed something addressed with a short turnaround and the staff did a very good job accommodating us."

—Assistant Financial Director

City of Largo, FL
I recommend CAFR

ONLINE

without reservation to other governments. The biggest advantages are 1) the support team provided by CAFR

ONLINE

, 2) the stability of the product and integrity of the data, and 3) the seamless integration of the balances in each of the funds.

-- Financial Manager

San Diego Metropolitan Transit System
CAFR

ONLINE

Let us bring preparation of the GASB 34 compliant financial statements in-house. This increased clarity of the detail behind the summary financial statements. It will also provide consistency of reported data from year to year, making trend analysis reliable.

—Finance Director/Treasurer

Town of Danville, CA
I don't think there are enough good words to say about the obvious commitment to customer service exemplified by the Thales Consulting team.

-- Finance Manager

San Diego Metropolitan Transit System
We were able to complete our CAFR with far greater efficiency than in prior years. In addition, the reporting tool allowed for greater participation by each of our staff accountants, which enhanced their commitment to the project, provided a genuine growth experience, and strengthened our team.

— Finance Director

San Diego Metropolitan Transit System; client since 2008
Based on years of outstanding work from Thales Consulting on other financial reports, I knew their CAFR

ONLINE

product would meet our CAFR preparation needs. They met and exceeded my expectations.

—Finance Director/Treasurer

Town of Danville, CA
I don't think there are enough good words to say about the obvious commitment to customer service exemplified by the Thales Consulting team.

—Finance Manager

San Diego Metropolitan Transit System
Features
CAFR
ONLINE

is a web-based application for local governments to create annual financial reports.

It can also be used to create interim reports, and all types of local governments (cities, counties, enterprise districts, and other special districts) use it.

CAFRONLINE is unique because it:
Links documents, spreadsheets and financial statements

By utilizing CAFRLATORS, the documents, spreadsheets and financial statements are all linked.

Has database driven roll ups

CAFRONLINE's financial statements run off of a database (rather than a spreadsheet), and, consequently, any classification changes to accounts or funds are a simple mouse click away.

Supplies detail behind any line

Users (auditors, too) can click on any line item to view the roll ups, trial balance data, and adjustments that comprise that amount.

Provides limitless drafts and users

Multiple users can log in to update the report simultaneously. Since the information is web-based, it is in one central location and updates in real time. A current draft can be exported at any time as a .pdf or .docx file.

Is maintenance-free

CAFRONLINE is a hosted web-based solution. All upgrades are included in the annual license fee. New updates are featured on the homepage when a user logs in, keeping them up to date. Backups are performed daily.

Has Project Management

The Project Management tool helps keep track of the CAFR's progress towards completion. It allows for assignments to specific users along with due dates to see if the CAFR is on track.

Is Web-based

Web-based allows multiple users to collaborate from anywhere with ease.

Has Support Assistance

Unlimited access to the support team via phone, email, web-based meetings, or the user forum.
Contact us for more info

arrow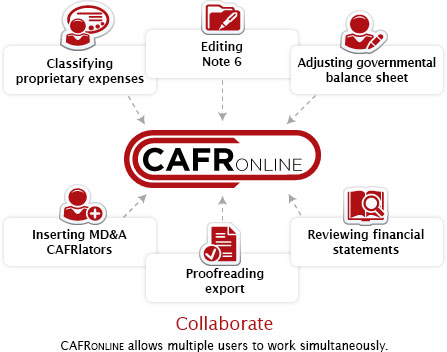 Project Details
CAFR
ONLINE

has two project steps: the implementation and the annual service.

During the implementation, Thales Consulting will:
Replicate 90% of the prior-year CAFR

Upload and format the prior-year CAFR text

Upload the prior-year trial balance

Create a draft of the financial statements

Format the financial statements

Provide training for all users

Provide extensive support for a successful first live year
During the annual service, Thales Consulting will:
Upload the trial balance

Format the financial statements

Provide support, maintenance, upgrades and backups

Accommodate applicable GASB pronouncements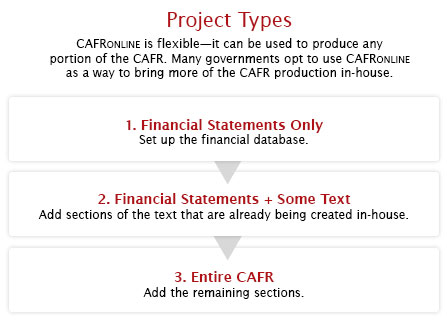 About Us
At Thales Consulting Inc., we create applications for local government financial reporting.
Government financial reporting is all we do. Using CAFRONLINE's technology, Thales Consulting, Inc. provides several other financial reporting services to local governments and school districts:
California State Controller Reporting Compilation
Florida Annual Financial Reporting
Interim Financial Reporting
Budget Financial Reporting
With all services being completed remotely, we work with over 200 local governments in more than 20 states every year.
Contact us for more info

arrow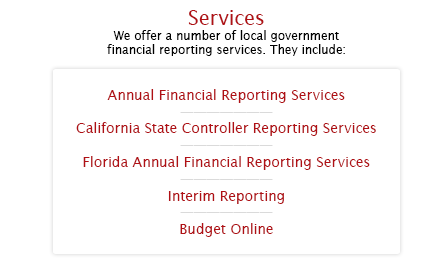 Testimonials
I recommend CAFRONLINE without reservation to other governments. The biggest advantages are
1) the support team provided by CAFR

ONLINE

,
2) the stability of the product and integrity of the data, and
3) the seamless integration of the balances in each of the funds.
We were able to complete our CAFR with far greater efficiency than in prior years. In addition, the reporting tool allowed for greater participation by each of our staff accountants, which enhanced their commitment to the project, provided a genuine growth experience, and strengthened our team.
I don't think there are enough good words to say about the obvious commitment to customer service exemplified by the Thales Consulting team.
It was a pleasure working with the CAFRONLINE staff in creating our FY2013 CAFR.
There were several times where we needed something addressed with a short turnaround and the staff did a very good job accommodating us.
CAFRONLINE Let us bring preparation of the GASB 34 compliant financial statements in-house. This increased clarity of the detail behind the summary financial statements. It will also provide consistency of reported data from year to year, making trend analysis reliable.
Based on years of outstanding work from Thales Consulting on other financial reports, I knew their CAFRONLINE product would meet our CAFR preparation needs. They met and exceeded my expectations.
Thank you to the CAFRONLINE folks that assisted in the 2014 CAFR. You guys do an excellent job and, in fact, go above and beyond in meeting client needs and their expectations. We are very pleased to be using CAFRONLINE and will continue to work with you in the coming year. Again, thank you for all of your help and keep up the good work.
This was our first year using CAFRONLINE and we were extremely happy. Overall, it shaved about three weeks off of staff time in producing the CAFR. The CAFRONLINE support team is both helpful and knowledgeable in all aspects of producing the CAFR.
We are ahead of last year. We issued our report last year on 3/28 and presented it to council in May… We also feel much more comfortable with the report this year because last year was rushed and we did not feel like we had adequate time to review.
In the past our auditors prepared the report and we got to see it when they are done. This is the first year that we are preparing our entire report and providing them a copy to review. I think with this being the first year, we will be even further ahead next year. We love the program!
We used CAFRONLINE for our 2018 CAFR. It was easy to use compared to our prior software, easy to make changes and the printed version was amazing. We should have switched years ago.
I have recommended your software to a couple of municipalities in Northern Colorado, we were all very impressed with how CAFRONLINE worked in producing our CAFR.